Mr. T. was active duty in the Navy from 1953 through 1983.
He was a Storekeeper.
He lived in multiple places during his thirty year career.
His wife's favorite was Hawaii. His was Key West.
One of the oldest Navy ratings, Storekeepers are tasked with maintaining ship or company military supply stores.
Effective October 1st, 2009, the Ratings of Storekeeper and Postal Clerk in the Navy were merged to become Logistics Specialist. Postal clerks had a cool insignia:
But the Storekeeper Insignia won out. The new Logistics specialist insignia is the same as the Storekeepers:
His highest rank was an E-9 (the most senior enlisted sailor). He had some great photo's around his home in his dress uniform: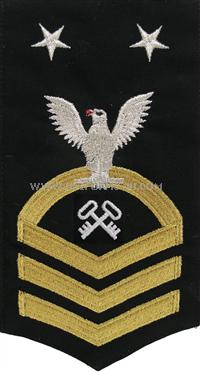 He had a stroke about ten years and never regained the use of his left side. He also has some cognitive impairment but he sure gave me a strong handshake when I said goodbye and thanked him for his years of service to our country.
He's quite a man.